The hallmark of PC control has always been the benefits it can pass on to machine control applications through increases in PC performance, along with steadily falling component costs. In recent years, higher performance has been achieved using multi-core processors.
But now, as a next step in the development of technology, a new type of many-core industrial servers are offering both a higher number of processors and at the same time more cores on a board. Current configurations for the industrial control market are available with up to 24 cores, and also provide both a much larger cache and higher clock rates.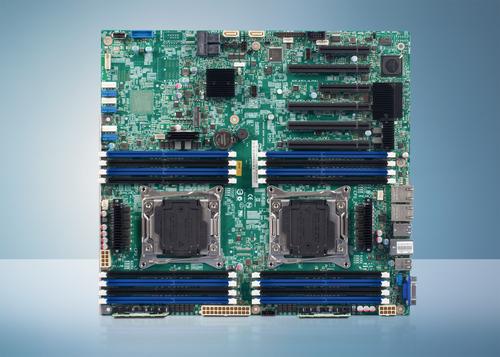 The new C6670 industrial server from Beckhoff offers options for two Intel Xeon processors each with six, 12, or 18 cores on one motherboard.
(Source: Beckhoff Automation)

"With continued increases in machine complexity, a trend has emerged that signals greater demand by machine builders for control systems with much higher performance and connectivity. Machines and lines that previously may have required multiple controllers for different tasks can now be operated with one centralized Industrial PC (IPC) by utilizing the latest Intel processors," Reid Beilke, industrial PC product specialist for
Beckhoff Automation , told Design News .
A key is that many-core industrial servers can provide the compute power to implement centralized control system architectures that are capable of controlling complex machinery and equipment from a central location. Enhanced performance may also create an opportunity to run more processor-intensive tasks such as scientific automation and simulation, for example, in addition to machine control tasks.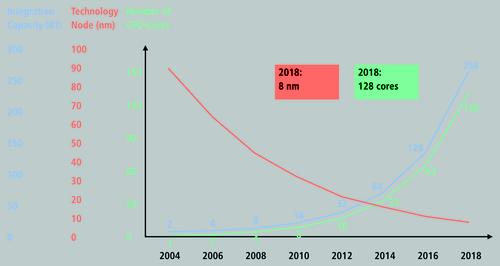 This estimated development of the number of cores to be available shows how multi-core technology will continue to evolve over the next three years.
(Source: Beckhoff Automation)

Progression to Many-Core Control
The technological progression of PC control has offered controllers with multi-core processors for many years already (in cabinet, arm/pole, and DIN rail-mounted formats). But now Beckhoff is offering a new "many-core" industrial server hardware (C6670) and TwinCAT 3 software which is able to maximize the performance of many-core PC-based hardware, all the way up to 256 processor cores when available in the future. Currently, two Intel Xeon processors are available each with six, 12 or 18 cores integrated on a single motherboard.
A wide variety of modular and scalable IPCs and industrial servers are targeting integration into the most demanding applications today, including Industry 4.0 concepts. These new industrial servers, for example, would enable customers to implement a server-based methodology for machine control by using up to 36 CPU cores and 2 TB of onboard RAM. The target is to use this solution as a centralized controller on multiple highly complex machines, or as part of an overall system architecture that extends data acquisition and analysis functionality to an entire plant floor.
MORE FROM DESIGN NEWS: IBM Invests $3B in Powerful Processors of the Future
"This data can then be distributed throughout company ERP systems and the cloud via a secure, encrypted communication protocol such as OPC UA, providing a real-time, up-to-the-minute look into plant production details. Of course, numerous other CPU-intensive tasks can be added