Most plants are taking the step toward digitizing their production data. The burden of running around the plant with a clipboard is finally disappearing. Now there's one more step to take: gather all of the disparate digitized data from plant operations onto one screen. GE has created a single snapshot of plant operations with its Plant Pulse Optimizer (PPO), which is part of the company's Brilliant Manufacturing Suite module. PPO provides plant operators with the ability to view up-to-date production, inventory, quality, and product delivery data gathered on a single screen.
"The pulse optimizer consolidates the various data points into a single visual element for a concise view of plant operations," Deepti Patil, senior product manager at GE Digital , told Design News . "If you have data that is in disparate sources you can use the optimizer to bring it together on one screen."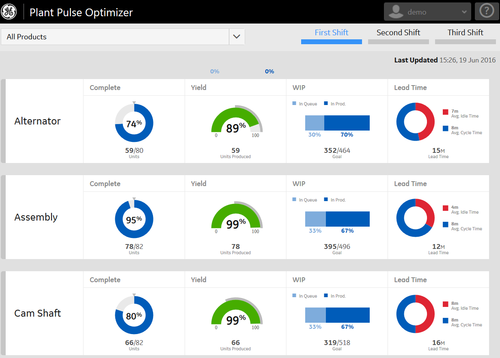 Here's an example of the data that can go onto a Plant Pulse Optimizer screen.
(Source: GE Digital)
Lack of plant-wide visibility can result in lost efficiency. The ability to integrate, access, analyze, and visualize data can improve optimization and information transparency. "Our research shows that in the past, operators and supervisors tended to depend on multiple screens and even whiteboards. They moved around the plant with notepads," said Patil. "The progression goes from not having a digital view to digital in pieces. This brings all of the digital elements together in one view."
---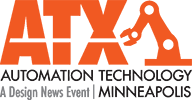 Your Data. Get It. Protect It. Practical information on embedding sensors in 3DP, automation & inventory control, big data as a diagnostic tool, cloud storage and security risks, and more in the Industry 4.0: Smart Strategies for Data Collection and Protection track at Automation Technology , Sept. 21-22, 2016 in Minneapolis. Register here for the event, hosted by Design News ' parent company, UBM.

---
The PPO was designed to provide a panoramic view of production activity for all factory personnel via real-time, multi-shift-based KPIs (machine-material-labor-product intelligence) as scorecards. "The Plant Pulse Optimizer is based on gathering key performance indicators to let plant operators know what's going on in the plant," Patil told us.
PPO is an out-of-the-box HMI that was created to require little configuration. Its
consumer-grade visualization technology draws on intuitive technology that requires no training, much like a smartphone. The card-based views aid in execution for various roles within the plant, with associated drill down cards to allow quick identification of bottlenecks at the operation level. "It's all on one screen, so you can see your product flow and you'll be able to see if a bottleneck has occurred," said Patil.
READ MORE HMI ARTICLES ON DESIGN NEWS:
The module provides insights focused on production analytics to help organize manufacturing data into a structure that displays information on inventory, yield, and achievement of production goals. The module is also device and back-end agnostic, which allows it to be connected to both GE and non-GE manufacturing operations systems. "It's been designed