Typhoons are typically nothing but trouble for Japan. But one engineer sees a way to leverage the winds that typhoons bring to provide an unprecedented amount of wind power to Japan, and has developed a wind turbine he said is strong enough to survive the storms.
Atsushi Shimizu has designed what is being billed as the first "typhoon turbine," launching along with it a company called Challenergy to develop and distribute the turbine. The entrepreneur said he was inspired to develop the turbine after observing for decades how Japan has installed wind turbines developed in Europe that typically fracture under the force of typhoon winds.
"For decades, Japan has brought in European-style wind turbines, not designed for typhoon zones, and installed them with no careful consideration--they've broken almost entirely," Shimizu said in a published report.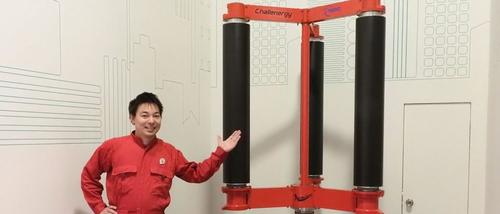 Japanese engineer Atsushi Shimizu has built a wind turbine he said can withstand even Japan's strongest typhoons to harvest the powerful potential for wind energy in these storms. His company Challenergy is developing the technology.
(Source: Challenergy)
His turbine, on the other hand, is designed not only to withstand the force and power of typhoon winds but also to harness their energy. And that is no small amount—according to the National Oceanic and Atmospheric Administration, these types of storms can generate 200 times the world-wide electrical generating capacity.
Until 2011, Japan had planned to rely heavily on nuclear power, but the earthquake and subsequent disaster at the Fukishima nuclear power plant that year called that plan into question. Solar power is becoming increasingly popular in the country, but it also has a significant amount of untapped wind energy, according to Shimizu.
The turbine he designed is a vertical-axis, eggbeater-like turbine that is omnidirectional, which will allow it to withstand unpredictable shifts in wind direction that are common in Japan, he said.
READ MORE ARTICLES ON WIND TURBINES:
Moreover, the key design element that makes it "unbreakable" during a typhoon is the use of the Magnus effect, according to Shimizu. This effect is the sideways force that causes a spinning object to deviate from a straight path. By using this effect, engineers can maintain an extremely high level of control over the turbine's blades, adjusting their speed to ensure they don't spin so wildly that they break during a storm, he said.
So far in tests the Challenergy turbine—a prototype of which was installed in Okinawa in July--has achieved 30 percent energy efficiency, slightly lower than the 40 percent efficiency of typical turbines, according to the company. Its real test will come, however, when it encounters an actual typhoon, which is yet to happen.
Elizabeth Montalbano is a freelance writer who has written about technology and culture for more than 15 years. She has lived and worked as a professional journalist in Phoenix, San Francisco and New York City. In her free time she enjoys surfing, traveling, music, yoga and cooking. She currently resides in a village on the southwest coast of Portugal.