More and more people are beginning to adopt rooftop solar panels at home because of their practical benefits without worrying about how the installations look on top of their house. But still less than 1% of US households have rooftop solar units, with many people balking not just at expense but also at the unattractive look of the panels.
Now a company called Sistine Solar wants to change all that by adding aesthetics to the mix with the design of solar panels that blend into their environment, making them more of an integrated design element rather than just an add-on, utilitarian feature of a house.
"Traditionally, solar panels have been manufactured to maximize utility without considering aesthetics," the company said on its website. "But there's another way. We at Sistine Solar are on a mission to showcase the innate beauty of solar energy through stunning design, captivating the world's imagination and ushering in the era of clean energy."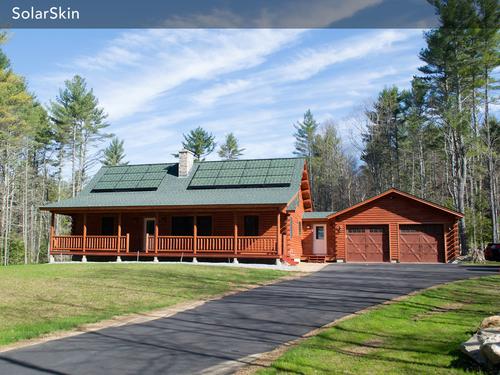 SolarSkin from Sistine Solar make rooftop solar installations more aesthetically attractive by offering a custom design look to blend into a home's roof. The company is the brainchild of several MIT graduates who wanted to promote the adoption of residential solar by making it more stylish in addition to being utilitarian.
(Source: Sistine Solar)
That way, according to the company, is to marry "form and function" with solar panels that can be customized to blend in with a customer's roof, regardless of its style or color.
The idea for Sistine Solar was born at MIT, where co-founders Senthil Balasubramanian and Ido Salama met as MBA graduate students and wanted to make solar energy not just practical but also "truly beautiful," according to the company's website. They joined Jonathan Mailoa, a PhD candidate at MIT's Photovoltaic Research Laboratory, and Samantha Holmes, an artist from the Accademia di Belle Arti in Ravenna, Italy, to turn their vision into a company.
The SolarSkin technology is a customizable, graphic layer within a solar panel that can display any image, design, or pattern -- for example, a pattern of a red Spanish tile roof. The panel transforms a traditional solar installation from one that is merely to perform a function to one that actually is part of the aesthetic design of the roof, as well.
READ MORE ARTICLES ON SOLAR ENERGY:
"We strongly believe in the transformative power of design," said Salama, who also is Sistine Solar's head of sales. "The moment we admit that design matters is the moment that clean energy can go from producing 1% of our energy needs to 100% in our lifetime. And the proof is there -- when we showed our SolarSkin to homeowners in person, 98% of them, including many who had refused solar in the past, preferred it to a traditional panel."
SolarSkin has garnered some impressive backers, including the US Department of Energy SunShot Initiative, which recently awarded Sistine Solar $1 million to test, certify, and commercialize the technology. The funding will help