As battery researchers work on improving the life of future batteries being developed for mobile devices, others are working on portable ways to charge devices on the go when their power sources go flat.
Sungun Chang is one of those inventors. She's developed Solar Paper, an ultra-thin solar-powered charging device that someone can easily carry around and use to recharge devices without the need for an electrical outlet.
Chang, from Chicago-based Yolk, said she had both practical and aesthetic concerns in mind when she designed the charger, which consists of a very thin solar panel -- though not quite as thin as paper itself -- and resembles a very slender clipboard. While other solar chargers are available, they are usually cumbersome and limited to people not adverse to carrying a heavy gadget with them everyday, such as those on outdoor treks, she said.
Solar Paper is different in that people can take it with them to the office, shopping, or wherever they might normally go in a day because it's not heavy nor difficult to lug around, Chang said.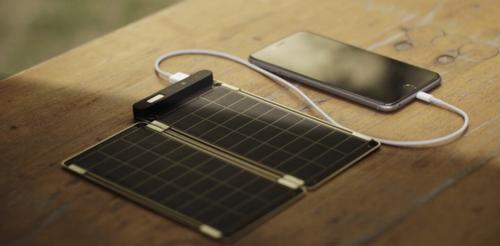 Chicago-based startup Yolk developed an ultra-thin, portable solar charger called Solar Paper.
(Source: Yolk)
"Conventional thick solar chargers were usually for outdoor activities because people cannot carry a bulky, heavy gadget everyday," she told Design News . "I wanted to prove that solar energy is not limited to users that enjoy outdoor activities. I wanted to make a solar charger that is for everyone's daily life; a solar charger that is compact and beautiful so people can carry it around anywhere with pride."
Solar Paper comes in four flavors depending on wattage, with 5W, 7.5W, 10W, and 15W models. Prices range from $135 to $400 depending on the size of the device, which basically add a 2.5W panel as they scale up.
When powered by a fairly sunny day, the 5W Solar Paper can charge an iPhone 6 or Galaxy S3 in about 2.5 hours, and also effectively charge the devices in five hours even if it's cloudy. Larger versions of the product perform better. Digital cameras, external batteries, Bluetooth speakers, and other portable devices also can be charged by the higher-wattage Solar Papers, Chang said.
READ MORE ARTICLES ON SOLAR ENERGY:
Another convenient feature of Solar Paper is that it doesn't shut down or need to be manually reset after a cloud passes overhead and the voltage drops, like most solar chargers do, according to Chang. The device has an automatic reset feature in this case so charging can continue without any action taken by the user.
Chang last year completed a successful Kickstarter campaign to fund Solar Paper, raising a sizeable $1.02 million from 6,297 backers to develop and produce the device. She and the team at Yolk will continue to work to improve the product now that it's on the market, though she said future plans for it are "top secret."
Elizabeth Montalbano is a freelance writer who has written about technology and