[Editor's Note: In celebration of Engineers Week 2016, Design News invited its engineer contributing writers to tell their personal stories. And don't forget to read our special readers submission series: Why I Became an Engineer .]

Being an engineer has been great. It touches on all aspects of my life. The skills of problem-solving carry over to just about everything.
Engineering is more than a job –- it is a mindset on how to approach all of life's challenges. I am so grateful for what engineering has done for me, both in my career and my personal life. Not only did it provide a way for me to contribute to and support my family, it provided an outlet for my creativity and the joy that comes with successfully solving a problem or accomplishing a difficult task.
Engineering also brought me into contact with lots of great folks that have enriched my life, as we partnered to work toward common goals. I have made lifelong friends with many of the people I worked alongside during my engineering career. Another advantage is that, as an engineer, I have never been bored at work. I get to keep constantly learning new technologies, as they emerge, or work on old technologies that need some troubleshooting. I never know what each day will bring.
As a test engineer, it is an extremely satisfying feeling to design and build a test set that is used for production -– knowing that something you built is instrumental in the success of the company. It is an important part of manufacturing because if you can't test the product, you can't get it out the door.
Providing solutions when new scenarios arise is also very rewarding. While it can be somewhat stressful when you are asked to provide that solution very quickly, it is also stimulating, and when you rise to the challenge you have the opportunity to be a hero. Whenever I am successful at solving a particularly difficult and pressing problem, I tend to play the Peanuts Happy Dance.


One of the greatest joys in my life is getting to partner with my husband, Phil, in our engineering endeavors. Together we have designed a portable IR heated back support. Phil designed the hardware and I did the software. We had a lot of fun working on the project together and felt like proud parents when our product was UL approved and went into production.
Since then, Phil and I have partnered in several mechanical designs. That is what is so much fun about engineering. I mentioned that it touches on all aspects of my life, and this is definitely one of them. I have always enjoyed horses, and I have a wonderful quarter horse named Pistol. One of my favorite things to do is trail obstacles on horseback. This led Phil and I, along with our son Josh, to design several different types of trail obstacles, which grew into the establishment of my small business, Golden Cross Ranch LLC.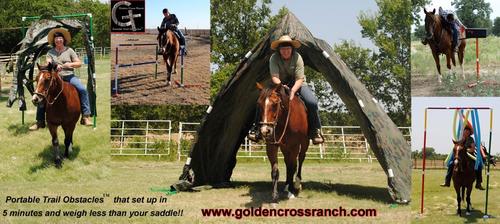 (Source: Nancy Golden)
Every trail obstacle presented unique challenges that had