General Motors' growing commitment to electric cars took a new turn last week, as the giant automaker said it would use EV batteries in the future to help boost its use of renewable energy.
As part of an announcement about its plan to migrate to 100% renewables by 2050, GM said old car batteries will enable its facilities to use renewable energy even when the sun's not shining and the wind's not blowing. "We're already using (Chevy) Volt batteries at one of our facilities," Colleen Oberc of GM told Design News . "It keeps the batteries out of the landfill and serves as a great way to store energy. We think our experience in batteries will help create more options for storage."
Today, GM employs end-of-life lithium car batteries for energy storage in the data center at its Michigan-based Milford Proving Ground. But the company could expand on that idea. It now has 22 facilities with solar arrays, three sites using landfill gas, and four other sites that will soon benefit from wind. Ultimately, the company said it plans to use 100% renewable energy in all its 350 operations in 59 countries.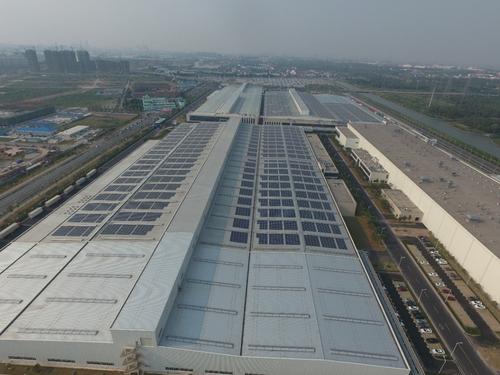 GM's Jinqiao Cadillac assembly plant in China will feature 10 MW of rooftop solar arrays. By 2050, all of GM's 350 operations in 59 countries will employ 100% renewable energy.
(Source: General Motors Corp.)
Experts believe storage is critical to achieving 100% renewable status, largely because of the intermittent nature of wind and solar power. "When we made the grid, we were always trying to match generation with demand," said Christopher Robinson, research analyst at Lux Research. "But you can't do that with renewables. Once you get to 20% or 30% renewable energy, you have to have grid storage in order to have reliable power."
The idea of using car batteries for grid support is hardly a new idea. As far back as 2009, the Center of Automotive Research (CAR) suggested that EV batteries would make a good grid back-up. "After the battery is done with its life in the car, it still has a lot of years remaining," David Cole, chairman emeritus for CAR, told us in 2009. "It may not have quite the capability you'd like in a car, but it can do fine in a battery farm."
Moreover, some experts believe that a concept called vehicle-to-grid could enable the electrical grid to store and draw power from EVs when they're not in use. Willett Kempton, a University of Delaware professor and senior policy analyst, published peer-reviewed papers promoting the idea as far back as 1997.
READ MORE GRID STORAGE ARTICLES ON DESIGN NEWS:
GM and other automakers should have plenty of EV batteries at their disposal, especially as they ratchet up their electric car efforts. Later this year, GM will launch production of the highly touted Chevrolet Bolt, an all-electric car with a 238-mile range. Other automakers, including Tesla, BMW, Volkswagen, and Mercedes, are electrifying their lineups. Many of their