A German company has introduced an electric car that recharges using solar panels, eliminating some of the driving-range issues that current EVs on the market have.
Munich-based startup Sono Motors supported its development of the Sion car through crowdfunding, raising more than $200,000 through an IndieGoGo campaign . The five-door compact van comes in two models -- one designed for city driving aptly called "Urban" that can travel 75 miles on a single charge and costs about $13,500, and an "Extender" version with a single-charge range of 155 miles that costs about $18,000.
Sono co-founder Laurin Hahn told Design News in an interview that developing vehicles that run on alternative energy or fuel is no longer just environmentally friendly or a cool thing to do -- it's actually a necessity for the auto industry.
"Well, generally speaking, the combustion engine has no future: legal guidelines (Euro6, environmental zones, bans), obtaining of maximum efficiency, and the advantages of electronic mobility, are just a few things that will stand in the way of combustion engines," he said.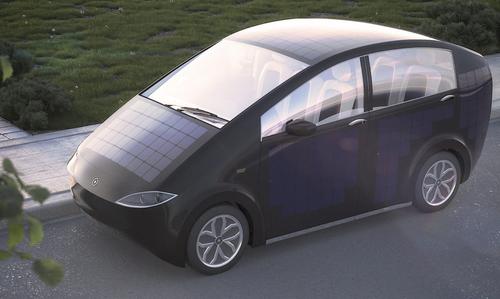 The Sion electric vehicle from startup Sono Motors in Germany can recharge using solar energy thanks to integrated solar panels. The panels can generate electricity that can extend the car's range by nearly 19 miles per day. Sono raised more than $200,000 in crowdfunding to develop the car.
(Source: Sono Motors)
Hahn said that while the company is aware of solar cars that have been developed for the annual World Solar Challenge race in Australia, the idea behind Sion is to build a solar-powered car for common use.
Most of these cars are meant to be race cars and to be able to transport only one person," he said. "We taking the whole solar-car thing a step further: We want to produce a solar car for everyone."
Indeed, what's different about the Sion versus other EVs is that it doesn't need to be plugged in to charge thanks to integrated solar panels that can charge the battery both while the vehicle is parked or while it's being driven. The panels can boost the car's range up to nearly 19 miles per day via the sun's energy, according to the company.
The Sion is a five-door compact van with a purely electric battery that has a capacity of 30kW hours and fast-charge performance up to 43kW. This is thanks to the solar-powered self-charging system called viSono, which has panels that cover a surface area of 7.5 square meters.
READ MORE ABOUT ELECTRIC VEHICLES:
The solar panels not only allow the Sion to be charged, but they also can provide up to 2,000W of electricity for mobile electronics devices using a household plug. Moreover, the car's maintenance system, reSono, makes it relatively easy for Sion owners to make common repairs themselves thanks to an instruction catalog and tutorial video. The company also is providing spare parts at a low cost.
The Sion also has some other interesting design elements, including a particular