General Motors Co. is putting an off-road twist on hydrogen fuel cell technology with an imposing new pickup demonstrator called the Chevrolet Colorado ZH 2.
The vehicle, developed in collaboration with the US Army Tank Automotive Research, Development, and Engineering Center , gives the giant automaker an opportunity to explore new avenues for fuel cells. "There are a lot of places where fuel cells really can make a difference outside of passenger cars," GM spokesman Alan Adler told Design News . "This is a great opportunity for us to learn from what the military finds out."
If you want a closer look, inside and out, of the ZH 2, as well as a little bit of history, click on the image below.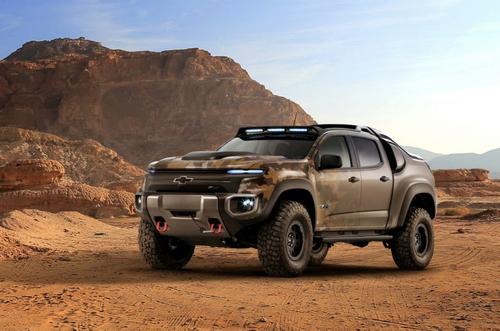 The Chevy Colorado ZH 2 demonstrator gives GM insight into potential off-road applications for hydrogen fuel cell vehicles.
Adler said the vehicle will be employed at three Army bases and one Marine base in 2017. The military has expressed interest in the hydrogen-based electric vehicle technology because of its quiet operation and low heat signature, as well as the water byproduct that's emitted by its vapor outlet.
The 6-ft-tall, 6,000-lb demonstrator vehicle combines a stretched mid-size pickup chassis with the electric powertrain of its predecessor, the Chevy Equinox fuel cell vehicle. It offers 94 kW of power, generated by 4.2 kg of hydrogen stored at 10,000 psi in three carbon fiber fuel tanks. It also features an Exportable Power Take-Off unit that provides 50 kW of peak power for charging radios or tools.
Electrical current from the fuel cell stack is stored in lithium-ion batteries that offer 140 miles of all-electric driving range.
READ MORE ABOUT FUEL CELL CARS ON DESIGN NEWS:
Hydrogen fuel cell technology continues to be an important area of research for big automakers. Honda rolled out a five-passenger sedan called the Clarity FCV and Hyundai introduced the Tucson Fuel Cell CUV in 2014. Toyota followed in 2015 by debuting its Mirai fuel cell car at the Consumer Electronics Show (CES). The vehicles have posted low sales, however, mainly due to lack of infrastructure and the high cost of platinum-based fuel cell stacks.
Still, a handful of automakers are forging ahead. GM and Honda have teamed up to share fundamental research on fuel cells. And Toyota has said it will grant royalty free use of thousands of fuel cell patents to its competitors.
Adler said the ZH 2 will give GM more insight into the potential applications for fuel cells. "We've got 3.1 million miles of real-world experience on this system," he told us. "But there's still a lot to learn in terms of fuel cell capabilities."
[images via General Motors/GM Heritage Center]
Senior technical editor Chuck Murray has been writing about technology for 32 years. He joined Design News in 1987, and has covered electronics, automation, fluid power, and autos.