Six big automakers will carry the electric vehicle (EV) battery market to a five-fold sales increase by 2020, a new study says.
Tesla, General Motors (GM), Renault-Nissan, Volkswagen, BMW, and BYD will account for 90% of the electric car battery sales during those five years, mostly on the strength of bigger battery packs. "We're seeing established OEMs making tangible commitments to EVs," said Chris Robinson, lead analyst for Lux Research's new study, "Segmenting the $10 Billion Battery Market for Plug-In Vehicles." "And all across the board, their batteries are getting bigger."
Click on the Model 3 below to start the slideshow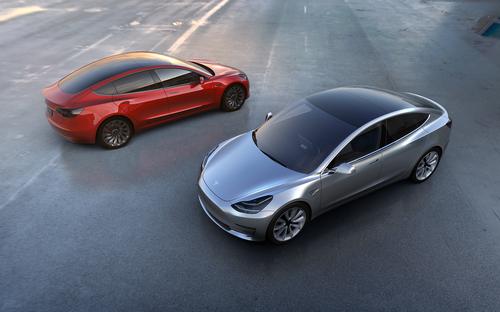 Lux Research predicts that Tesla's Model 3 could account for as much as 30% of the EV battery market by 2020.

(Source: Tesla Motors)
Indeed, most automakers are turning to bigger batteries that offer greater all-electric range. GM, for example, is expected to offer a 60-kWh battery in the all-electric Chevy Bolt, which will debut later this year. The battery pack is almost three times the size of the one used on the existing Spark EV. Similarly, Nissan is expected to double the battery size on future versions of the Leaf, which currently offers a 30-kWh battery. And Volkswagen has hinted at a 200-mile version of the e-Golf, which suggests that their future vehicles could carry onboard packs approaching 60-kWh.
The lone exception to the bigger battery phenomenon will be Tesla, but the electric carmaker is expected to make up for that lack of size in sheer volume. Tesla CEO Elon Musk has projected annual sales of 500,000 of the affordable Model 3 vehicles by 2018.
"The influence that car has, and the success it has, will have a noticeable impact on the entire battery market," Robinson said. "The volumes they're predicting are an order of magnitude above what anyone else is even thinking about."
READ MORE ABOUT EVs AND BATTERIES:
Robinson added that Lux does not expect Tesla to reach the 500,000 figure any time soon. But even in the 200,000 range, the Model 3 would still account for about 10-15 GWh out of the global total of 50 GWh.
In terms of the vehicles, battery packs will be split evenly between pure electrics and plug-in hybrids, Robinson said. But in terms of GWh of batteries, about 80% will come from the pure EVs, which tend to use much bigger packs, and 20% will come from plug-in hybrids, such as the Chevy Volt.
The huge battery growth, however, doesn't mean that electric cars are poised to take over the automotive market by 2020. Lux expects total sales of plug-in vehicles to account for about 2% of overall US sales by then. "We're not expecting this to take over the market in the next five years," Robinson told us. "But we do think we're at the start of a real growth curve."
Senior technical editor Chuck Murray has been writing about technology for 32 years. He joined Design News in 1987, and