It's that time of year again -- the weather is turning colder, our yards are full of red, orange, and gold leaves (for most of us, anyway), and we are eating far too much leftover Halloween candy.
It's also time to enter the Golden Mousetrap Awards . Technically, the deadline to enter has passed, but I will let you in on a little secret -- it's been extended a full week!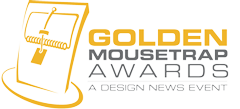 So, no more excuses. Go to goldenmousetraps.designnews.com today and enter. If you are on the fence, here are five reasons why you should:
National Exposure. Winners (and even finalists) are featured in the magazines and/or websites of UBM's family of publications, including Design News , Packaging Digest , Plastics Today , and MD+DI.
Social Media Buzz. Inclusion in a national PR/social media campaign promoting the awards, nominees, finalists, and winners.
The Recognition You Deserve. Your company/product will be recognized and lauded at the annual awards ceremony, in conjunction with Pacific Design & Manufacturing , at the Anaheim Convention Center in February, attended by more than 500 industry professionals.
Exclusive Branding. Winners and finalists will receive the rights to use and display the special Golden Mousetrap logos on packaging and promotions.
Bragging Rights (and the Hardware to Back it Up). What better way to say, "we ARE the best," than with a shiny Golden Mousetrap Award in your trophy case?
So, if you aren't convinced yet, go to goldenmousetraps.designnews.com for more details, eligibility rules, and information. Still have questions? Send them to me – [email protected].
Check out the links below for information on past winners:
Good luck! We hope to see you on stage in Anaheim at the 2017 Golden Mousetrap Awards!
Jennifer Campbell is an award-winning journalist and the executive editor of Design News.