Analog Devices (ADI) today unveiled a radio transceiver and design environment that promises to dramatically reduce the time required to develop RF-based applications.
The product of a decade-long internal effort, RadioVerse technology consists of a universal transceiver surrounded by a design environment that offers board support, software, and tools. It's being targeted at applications in aerospace, defense, cellular base stations, test and measurement, and public safety. "It's for engineers who are looking for a versatile technology platform that drastically reduces the complexity of RF design," Nitin Sharma, senior director for RF transceiver marketing and applications at Analog Devices, told Design News .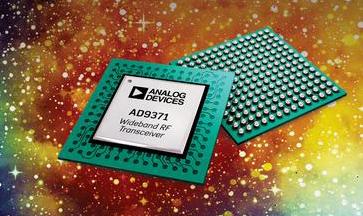 Analog Devices' RadioVerse promises to help developers take their RF-based products from concept to creation faster.
(Source: Analog Devices)
The backbone of the new product is a wideband RF transceiver. Known as the ADI9371, it is said to reduce radio size, weight, and power consumption. ADI says it replaces or eliminates as many as 20 discrete radio components and can be used as a common design platform across multiple applications and standards. As such, it offers a wide RF-tuning range of 300 MHz to 6 GHz.
"The architecture and the radio itself are 'band agnostic,'" Sharma told us. "It doesn't matter if you're at 300 MHz or 6 GHz. You don't need to make any external configuration changes."
The other part of the RadioVerse package -- the associated design environment -- includes software APIs, design support packages, documentation, access to online support, and RF transceiver evaluation boards that connect directly to an FPGA platform. The boards are also supported by a toolkit that includes Linux drivers, software APIs, and a GUI.
ADI said the transceiver design was created in parallel with the RadioVerse environment. "When the designers were putting down circuits, they were also thinking about what software would be needed and how that software would work," Sharma said.
ADI said the need for a simpler methodology has been growing over the past decade. Ten years ago, Sharma said, there were four cellular bands worldwide. Now there are at least 42. Moreover, there are now more than 100 billion connected devices -- about 100 times as many as 10 years ago. As a result, RF development is now far more complex than it was a decade ago, he said.
READ MORE ABOUT WIRELESS:
"The complexity is affecting how quickly customers can develop products," Sharma said. "It's also making the products bigger, heavier, and costlier."
The new radio technology will change that, ADI says. The transceiver will make products smaller and lighter, while using less power. And the "ecosystem" will enable engineers to take the designs from concept to creation more quickly, no matter the application.
"We looked at the situation and decided we can either make incremental improvements, or we could step back and take a high-level view of the problem," Sharma said. "With RadioVerse, we're approaching it from the high level."
Senior technical editor Chuck Murray has been writing about technology for 32 years. He